Welcome to my Profit Machine review.
If you are here, chances are you have heard about this program.
I am sure you are wondering if the program is worth it.
Well,
In this review, I will dive more in-depth into the following points so that you can make an informed decision:
What is the Profit Machine about?
How does the program work?
How much does the Profit Machine cost, and what do you get in return?
Who is the program for, and who is not?
The pros and cons and my final point of view.
A side note before we move on, I bought this program. So this review is not based on research but purely on my own experience.
Without further do, let's dive in.
What is the Profit Machine about?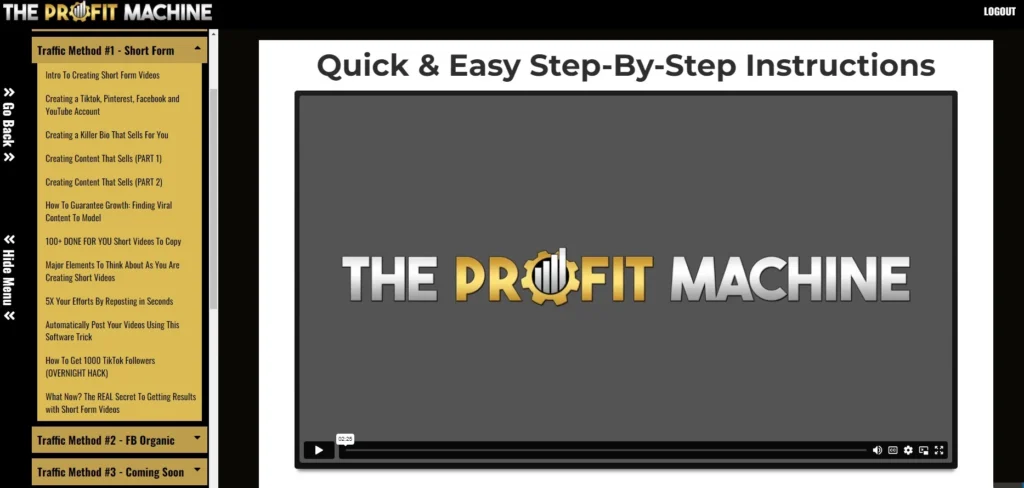 One of the biggest challenges in affiliate marketing is finding high-converting products and implementing effective marketing strategies.
The Profits Machine is a DFY marketing system designed by two well-known and successful affiliate marketers: Jonathan Montoya and Thomas Gartez.
It is a revolutionary "Done-for-You Affiliate Marketing System."
That means it eliminates the need to create everything from the ground up, saving you the time, resources, and effort required to get started.
In fact, the system comes with high-converting sales funnels DFY email series that will be deployed to your leads on your behalf.
So you can leverage these pre-existing assets to start making money fast instead of designing and developing them on your own.
I know you might come across similar DFY programs in the past.
But this program stands out from the crowd because you are not required to buy costly software to run your business,
Therefore, with the Profit Machine program, you don't have to buy expensive tools – unless you wish or you already have one.
In fact, with this system, you don't need to do all the hefty tasks of selling, closing sales, etc. The system does all this for you.
Here is what you need to do to leverage this system, take a minute to set it up, and then send traffic to it.
And yes, don't worry because pre-recorded training videos will teach you step-by-step how to drive traffic to your links.
Here is my YouTube video that explains things easier.
How does the Profit Machine work?
First off, this program is about making money by promoting other people's products or services. This is called affiliate marketing.
But as you know, in order to make money in this industry, you need to find products you will be promoting.
Build an audience so that you can market your offer or affiliate products to them.
And by talking about building an audience, and marketing your offers, trust me, it involves plenty of tasks.
The Profits Machine program has made the process easy, making it a beginner-friendly program.
It provides a pre-made solution and resources, eliminating the need for extensive hard work or expertise.
And here is how the program work basically:
The owners provide four simple steps you can go through to start making money with the system.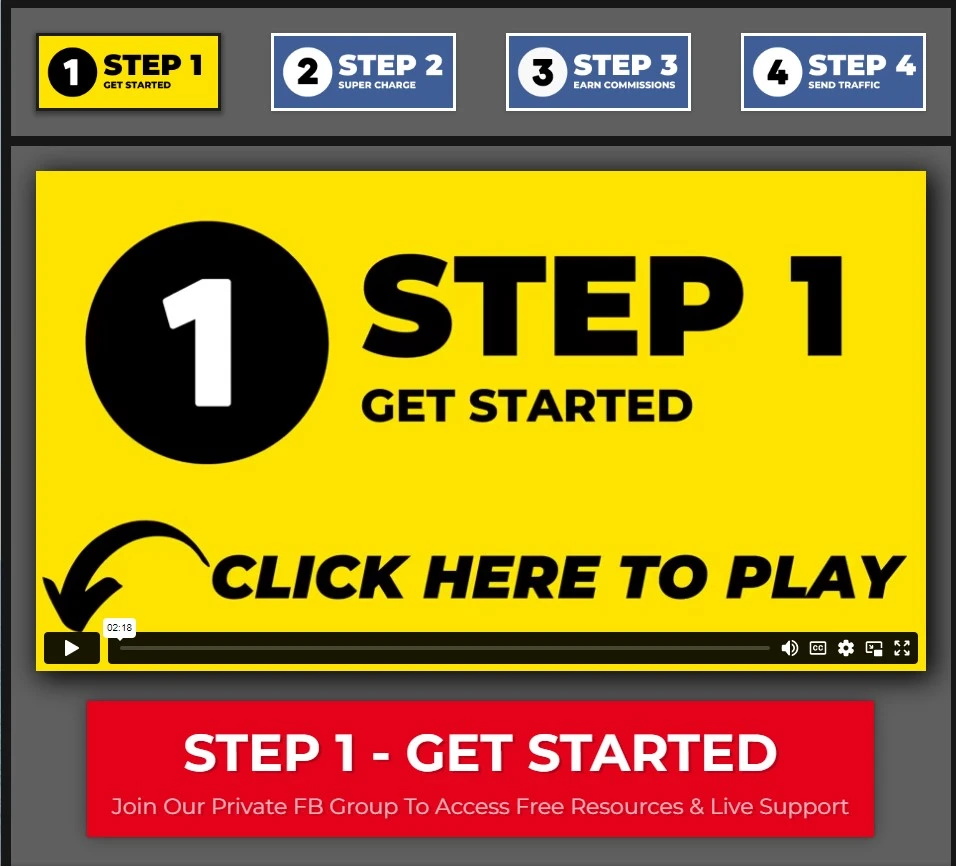 The first step is about joining the community so that you can get help and support from like-minded people and even the owners.
The second step is developing your online marketing skills and boosting your earnings potential. Here you will learn strategies and tactics the top earners follow to succeed online.
Step number three is about getting access to your affiliate resources. Everything is Done For you here. Just grab these resources, and you are ready to go.
Step number four is about traffic generation. Here the owners will show you traffic sources you can use to drive traffic to your promotional materials faster and start earning commissions.
Note that the system does all the selling and sales closing for you when you send traffic to the program.
So you don't need to promote the program yourself. The system does it on your behalf.
How much does the Profits Machine cost?
The Profits Machine program costs only $37 per month.
But you have the option to pay a one-time fee of $147, which is the best way to save a lot of money in the long run.
The great news is that they offer a $1 7-day trial. Meaning that with only $1, you can have access to the program and try it before you decide to invest more money.
Plus, unlike other DFY programs where you are required to invest in costly software, with this marketing system, you don't have to.
So no extra investment is required.
However, the program comes with an upsell, giving you more perks and advantages.
We will talk about that in the next section of my Profit Machine review.
The Profit Machine program features
The Profits Machine program is a hassle-free solution that leverages cutting-edge automation tools to help you run your entire business on autopilot.
The regular Profits Machine gives you basically 3 steps, 1. 3, and 4. [Refer to How does the Profit Machine work?]
You grab your affiliate link in STEP 3 and send traffic to start advertising.
It is very important to design your opt-in page before sending traffic or you can use the company opt-in page,
STEP 4 gives you Traffic for me as a traffic source; you can buy Solo ads from Udimi for a reasonable price as well.
From sales funnels to email marketing, the system handles it all seamlessly. This means more time and energy for you to focus on what truly matters: sending traffic to your affiliate offer and maximizing your earnings.
Let me clarify this part, so basically, see below what the regular Profit Machine is giving you.
Access to the Private Facebook group for support
You will get your affiliate link for advertising
You will get the company opt-in page
Email sequences
You get 40% of commissions (30% on Tier 1 & 10% on Tier 2)
So in the regular profit machine, you cannot collect leads; the company will collect the leads and do the follow-up for you.
If you want to collect the leads, you need to create your own landing page, connect your autoresponder, and direct people to the sale page, which is your affiliate link,
That is why the STEP 2 or supper charge is created. Not only it gives you all the elements mentioned above, but also, everything is designed for you to collect leads, so you are in full control.
Here is what you will get when you join this Supercharge.
Access to training courses designed by super affiliates to learn the ropes of affiliate marketing,
Access to a private Facebook Community for support and help from the owners and other top earners,
DFY lead generation and sales funnels you can use to generate leads and sales and then earn affiliate commissions,
Access to a private affiliate program that pays 40% to 70% ((40% on Tier 1, 20% on Tier 2 &10% on Tier 3) recurring commissions and much more.
Possibility to build multiple income streams with less effort
Note that the training teaches you how to drive traffic to the system. But you are free to apply what you have learned to any program you wish.
The Supercharger program costs a $247 one-time fee at the time when this article is created.
To be honest, the SuperCharge program gives you more value. But, like any upsell, it is optional.
Who is the program for?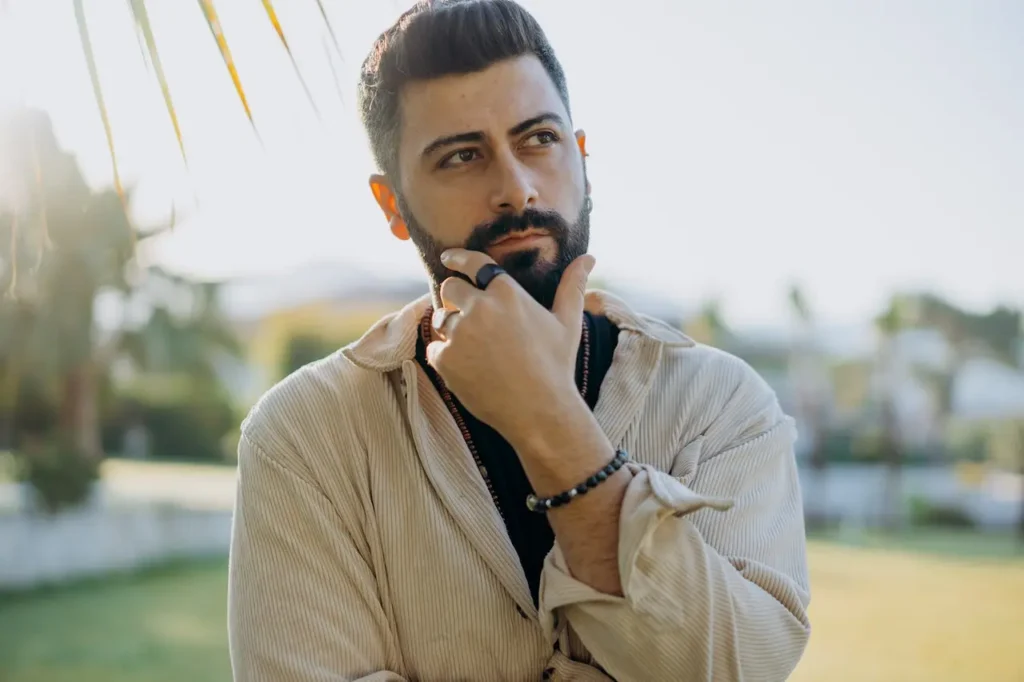 The Profit Machine is designed for you if you are looking to harness the power of affiliate marketing without the complexities and time-consuming tasks that typically come with it.
Whether you're completely new to the affiliate marketing industry or a seasoned busy affiliate marketer, this system is tailor-made.
This marketing system provides you with the tools, resources, and support needed to achieve success in the affiliate marketing world – making it a convenient solution for everyone
So, go for it if you are:
A beginner with any prior experience or technical skills,
An affiliate marketer, but still struggling to see consistent results,
A busy professional with limited time.
In fact, with its optimized funnels, targeted marketing materials, and ongoing support, you can maximize your earning potential and take your affiliate marketing to a new level.
As promised at the beginning of this Profit Machine, let's talk about the ins and outs of the program.
Profit Machine Pros And Cons
The Profit Machine alternative
I believe the Profit Machine is a great program. But for one reason or another, it might be your first rodeo.
Here is the best Profit Machine alternative:
The Home Business Academy: This is a solid program out there that pays up to 80%. And just like the Profit Machine program, you can try it for just $1.
You can learn more about this program in my Home Business Academy review.
My Profit Machine review last thoughts
The Profit Machine is a DFY marketing system that provides a marketing solution and resources you can leverage to kick-start your affiliate marketing business.
So the fastest way to start generating affiliate commissions even if you are a complete beginner in online marketing.
When it comes to the cost of getting started, I think it is reasonably priced since there is no extra cost involved.
And the beauty of all this is you can get started today with only $1.
With that being said, I hope you found my Profit Machine review helpful.
If you have any questions, don't hesitate to let me know in the comment section below.
To your success!