With a lot of scams and under-delivered products out there, common sense will dictate you do your research before you jump into any program.
Are you wondering if the Home Business Academy platform is a legit platform? Or another hyped program?
If your answer is yes, then you are in the right place.
Unlike most reviews written by people who have not tried the program, I am a user and a proud member of this program.
So, I am in a better position to tell you if the platform is legit or not.
In this home business academy review, I will share my experience and honest opinion so that you can make an informed decision.
DISCLAIMER: –  Just before you dive into my review here, in this article are links which are affiliate links. It means that should you click on and purchase through these links, I get a commission. That does not in any way causes you to pay more, but it does help me to keep the lights on. Thanks in advance
What is the Home Business Academy about?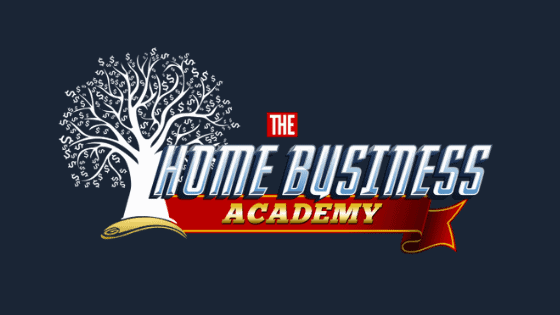 The Home Business Academy is a marketing training platform that provides education, marketing tools suite and coaching programs to aspiring affiliate marketers.
In short, with the Home Business Academy…
You will learn how to build a successful affiliate marketing business – starting from scratch.
You will have access to online tools to build your business under one roof.
You will also get support and coaching from the owners and their teams to help you grow your business.
As you know, success needs support and a better education.
So, it is a better place to start, no matter your level of experience.
Who are the owners of the Home Business Academy?

Mike Hobbs and Paul Hutchings are the guys behind the Home Business Academy.
Unlike certain programs, the Home Business Academy operates in full transparency. The owners didn't hide their identities as scammers do.
For example, Mike is present on social media platforms like:
Twitter with 4843 followers.
YouTube with 12.1 subscribers at the time of this Home Business Academy review.
Both have generated over 2 million dollars in revenue as digital marketers.
And their goal is to help regular people build a long-term and rewarding online business by providing tools, training, and support.
Now that you know the identity of the FBA owners, let's find out what you can expect from this program.

What to expect from the Home Business Academy?
As I said in the previous section of my Home Business Academy review, the platform provides education, tools, and premium coaching programs.
Let me break them down for you.
Here are training courses the Home Business Academy has under its belt.
HBA Premium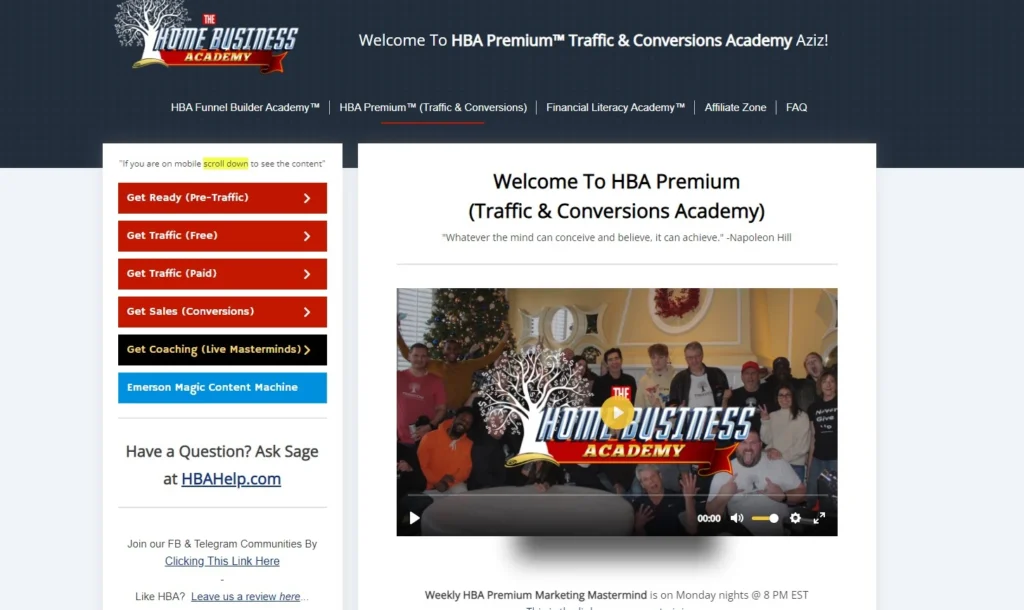 The HBA Premium membership gives you access to a digital course. The course was designed to teach you how to start your affiliate marketing business from scratch. And then make a passive and consistent income from it.
Basically, you will learn in this training course:
How to generate leads with Facebook organic traffic
How to produce videos and rank them higher on YouTube and then turn your audience into qualified leads
How to build a website or blog and then turn it into a cash machine that generates leads and sales for your business
How to create a high-converting lead magnet to build your email list and then follow them up
How to turn your cold leads into hot leads and then into customers or business partners and more.
On top of the core training course, the HBA owners host weekly coaching masterminds with other super affiliates. The goal is to help you get up-to-date training and strategies to grow your business faster.
During their live call, you have the opportunity to get all your questions answered.
The Freedom Launchpad
The Freedom Launchpad is another digital course under the HBA belt.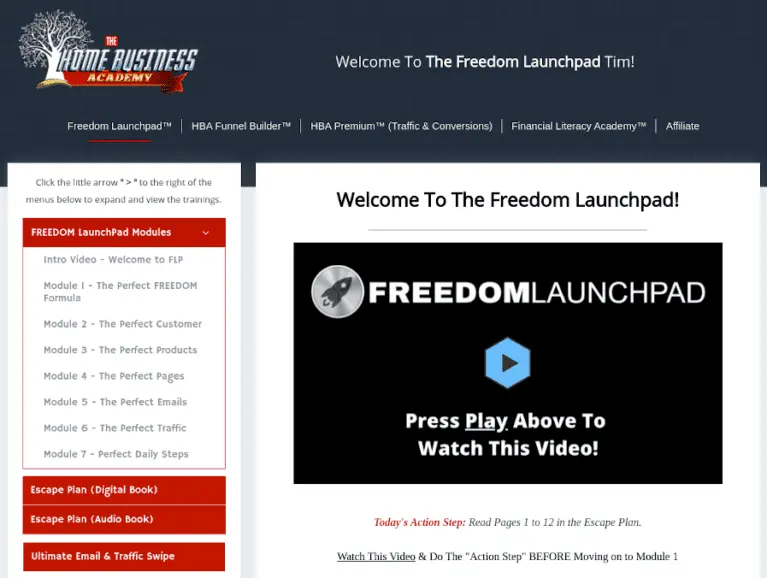 It is a proven blueprint created by Nick Bramble to get you up and running in a short time with the HBA builder. And that without any hassle, confusion, frustration, or wasted time.
The Financial Literacy Academy
This is another HBA Premium Course designed to teach you how to build financial security.
The course cover subjects such as:
Debt relief
Plan for early retirement
Finance management
US Business tax planning
Cash Flow building, and much more.
The HBA funnel builder (marketing tools suite)
The Home Business Academy provides a useful online tools suite you can use to run your online business under one roof. That saves you the hassle of logging in here and there to manage your entire business.
In fact, the FBA funnel builder is an all-in-one marketing tool and beginner-friendly sales funnel builder you can use to:
Build a landing high-converting lead generation funnel to generate leads for your business
Create beautiful sales funnels to sell digital products and even physical products.
Create a membership site or online course to build a community around your business
Have access to all your subscribers in one place
Create blogs to grow your business organically. I recommend you use WordPress, which is SEO-friendly instead.
Emerson – HBA Ai Writer tool,
Emerson is an AI writing tool you can also leverage to create content easier and faster with a few clicks of the mouse.
This software works by taking the minimal information given and then searching the web to generate amazing content relevant to your topic.
This software allows you to easily and quickly create many content types such as:
Blog and email content
Blog post outline
Ad copy and social media content
Video script and YouTube video description, and much more.
It is easy to use and with a few clicks of the mouse you can generate engaging content you can use to publish on your website, social media posts, etc.
That saves you more time and increases your productivity.
Here are a few specific things I like about it:
The software is easy to use and beginner friendly. All you have to do is put in a little information about the subject you want to cover and watch Emerson does the heavy lifting for you.
With Emerson, there is no more writer's bloc. Because with this tool, you can easily gather post ideas, blog outlines, and more.
On top of the all-in-one marketing tool, and the AI software, the Home Business Academy also provides email swipe files. You can edit the files and make them unique for your own use.
How much does the Home Business Academy cost?
The HBA is like a School with several courses, tools and coaching programs.
Each product has its price tag.
For example, the HBA Premium (Traffic and conversions academy) costs $125 per month.
But they offer a 7-day $1 trial. Meaning that you can get access to their platform and offerings for a small amount of $1.
That is nice and a great way to try it before you decide to pay the regular membership fee.
The Freedom Launchpad costs a $27 one-time fee.
The Ultimate Email & Traffic Swipe File costs a $37 one-time fee.
The AI Writing tool (Emerson) is part of the premium program but no worries, you have the opportunity to test drive the software for up to two weeks.
The Financial Literacy Academy costs a $1000 one-time fee. But they provide an option to pay $300 monthly in 4 monthly installments.
The HBA Funnel Builder costs $25 per month.
But the exciting news is that each product comes with an 80% commission. So only 2 sales cover your membership fee.
Another great thing is that if you are on a tight budget, you can start with the HBA All-In-One $25 Digital Business. It comes with a low entrance fee of $25 per month.
For $25 a month, you get the builder, which has unlimited pages and steps, a training academy, and a community of support that is truly amazing. HBA also donates a portion of this to help feed starving kids via a charity called feed my starving children.
You can learn more about the HBA funnel builder here.
What do you get for your money when you join the FBA Premium?
Your purchase gives you access to the FBA training portal. There, you can access training videos, and other useful resources to get started with your online business.
In a nutshell, here is what you get when you purchase the FBA Premium:
Instant affiliate approval
8 Video Social Media Module
FBA personal development training audiobook (updated each week)
15 Video Step By Step YouTube Ranking Course
Live weekly interactive marketing coaching webinar
7 Video Lead Magnet Course
11 coaching sessions
On top of these resources, you also get valuable bonuses worth $435.
Here are the bonuses which come with your HBA premium membership:
Free access to the HBA private Facebook group for support and help
LinkedIn Recruiting Mastery for learning how to generate hot and qualified leads from LinkedIn
​Irresistible Invitations Module to learn how to convert cold traffic into buyers
12 Video Blogging Module to learn how to grow your business with organic and free traffic
Facebook Video Ads Module to master Facebook ads – taught by an expert in the domain
Telegram support
Still doubtful? Let's answer the burning question…
Is the Home Business Academy a scam?
The straightforward answer is a big NO. The Home Business Academy is not a scam.
This is a training platform that provides education, tools, and coaching programs. It was designed for individuals who want to break with the 9 to 5 lifestyle. For people who want to be their own boss, live a life on their terms.
The owners are genuine. They dedicate their time to helping their community grow their business.
Here are the reasons I believe the Home Business Academy is not a scam:
The owners are real and accessible. During the live calls, you will have the opportunity to hang out with them and get your questions answered.
You get value for your money (education, tools, and support)
The platform is hype-free, and they don't make false promises.
You can try it for just $1 before you make a final decision. Scammers generally charge you upfront with a zero refund policy.
Is the Home Business Academy worth it?
In this competitive world, having proven blueprints and strategies with support from experts is crucial for your business's success.
So this is a platform to consider mainly if you want to follow in the top earner's footsteps to get results faster.
The reason is the online space is a fast-changing landscape. But Paul and Mike dedicate their time to teaching new and true-tested strategies, which might save you errors and mistakes.
I am a proud Premium member of the Home Business Academy platform. And based on my experience this is the all-in-one platform to consider.
Not only do I have access to a community of like-minded people but I also enjoy their weekly live calls.
Don't take my word for it. Look at the Home Business Academy's positive reviews below to find out what current members are saying about this program.
Take a look at the images below.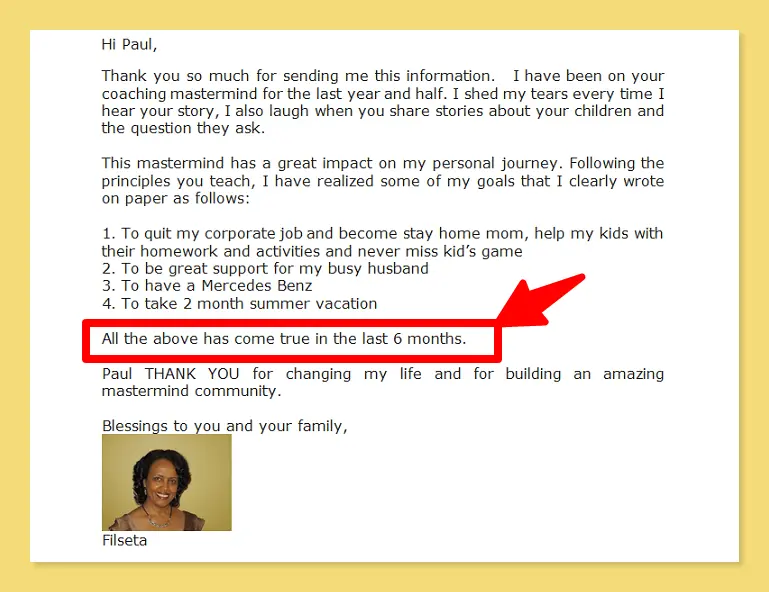 Filseta, when she was joining the Home Business Academy, had the dream of quitting her corporate job, owning a Mercedes Benz, and taking vacations. We are happy for her that she has achieved her goal.
And she is not alone.
Here below is another successful affiliate.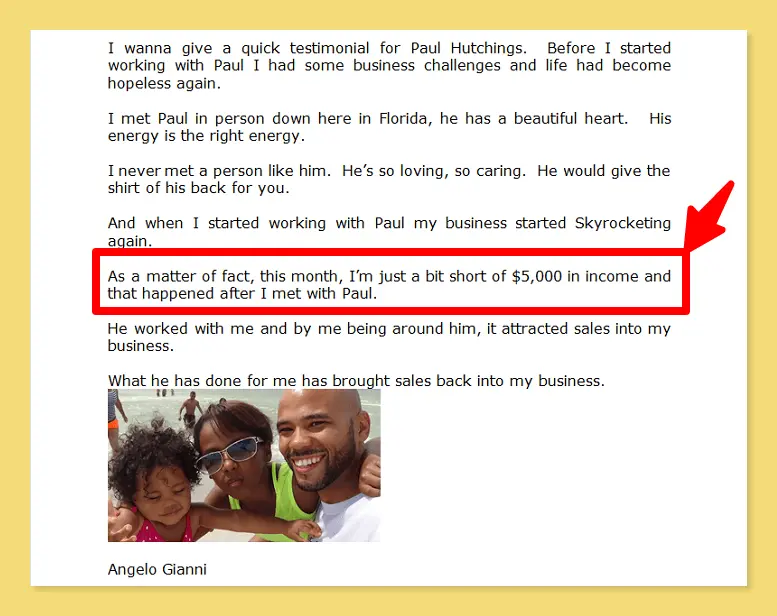 As you can see, Angelo is making 4 figure income online thanks to the HBA training courses.
Home Business Academy Affiliate Program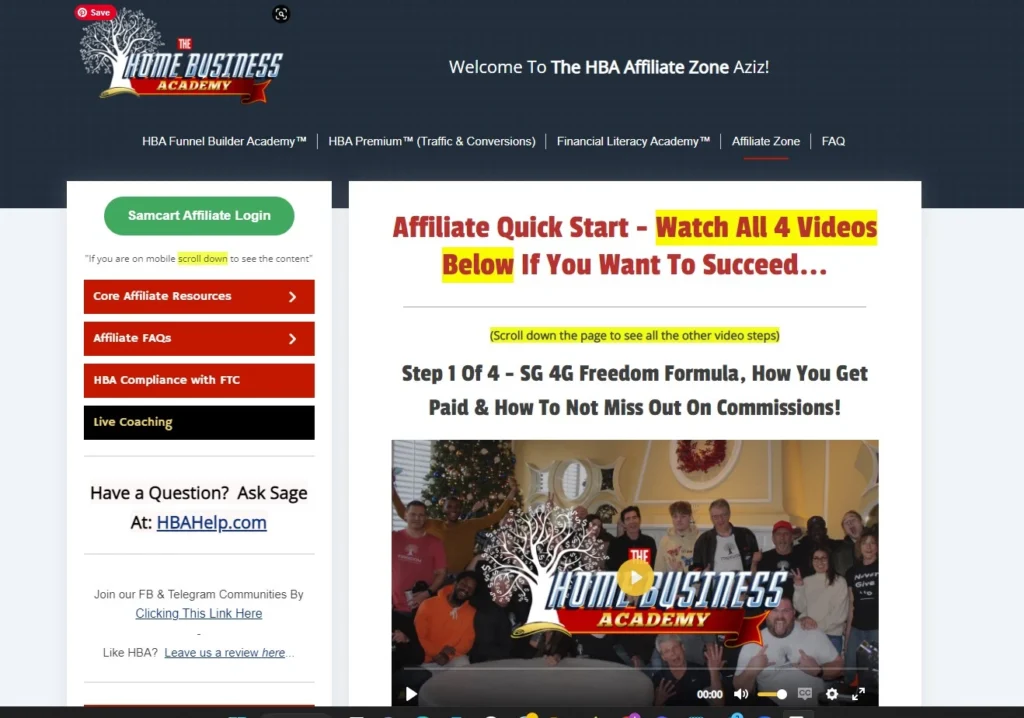 The FBA platform offers a private and exclusive member-only affiliate program. Meaning that if you want to promote their products for a commission, you should be a customer first.
This is because they want to increase the likelihood of attracting new members who are a good fit for their platform.
In fact, if you have experienced their program yourself, you are better placed to describe the program accurately. You also know who it is best suited for.
When it comes to the commission rate, they pay 80% commission.
The great news is that their monthly subscription-based products come with recurring commissions.
For example, when someone buys the HBA premium via your referral link, you get a $100 recurring commission.
That means as long as the customer continues to pay his membership fee, you will get paid $100 every month.
Just 2 customers and your membership become free.
And if they buy any products, no matter when the sale is completed, you still get paid.
The home business academy offers a 3-day refund policy because they pay commissions each week (this was a request of the affiliates because they wanted to get paid faster for the sales they made).
Sound good. Right?
But before you jump in, let's find out who this platform is meant for.
Who is the Home Business Academy for?
First off, affiliate marketing is not a get-rich-quick scheme, and this platform is hype-free.
That said, if you are looking for push-button systems to make easy money with zero effort, this platform is not for you.
The HBA platform is for entrepreneurs who want to build real businesses and put in the work no matter their online experience level.
In short, the FBA is for you if you want to build your own affiliate marketing business. And that by following top earners' footsteps and step-by-step instructions.
The Home Business Academy review: the pros and cons
Do you still have a question unanswered? Check out the HBA's FAQ to learn more.
Final thoughts
The Home Business Academy is a legit platform that provides education, tools, and support.
Their training courses cover traffic generation with platforms such as:
YouTube,
Facebook,
blogging, and
even Facebook-paid ads.
That gives students more options when it comes to generating traffic.
They even go deeper by teaching you how to turn your traffic into leads and your leads into qualified buyers with email marketing.
And what I like about the HBA is that on top of the core training courses, they offer weekly masterminds where new strategies are revealed.
The ultimate goal of the home business academy is to help as many people as they can to create a life of freedom through freedom of principle center leadership.
This is possible through recurring income or commission, which will help you disconnect your time from your income.
That being said, I hope you found my Home Business Academy review helpful.
If you have a question or any experience with the HBA, share it with us in the comment section below.
[activecampaign form=1 css=1]